Ideja

Grafika

Audio

Bonus
Igraj Flaming Hot besplatno
Ideja
Flaming Hot jedna je od slot igara na koju će igrači posebno želeti da obrate pažnju, pošto je pokreće EGT softver koje je u slučaju ove igre koja nudi čak 40 potencijalnih dobitnih linija, više nego opravdao očekivanja.
I u ovoj slot igri, koja ima pet linija sa po četiri simbola, se mogu videti već prepoznatljivi voćni simboli poput lubenica, grožđa, trešnji, jabuka, breskvi i banana. Osim voćnih simbola, tu je i BAR odnosno zlatna poluga, Wild simboli i skateri, kao i sedmica koja je i najpoželjnija. Wild i skater simboli mogu čak do 500 puta da uvećaju potencijalni dobitak igrača. Wild simbol je predstavljen upravo rečju wild, dok su skateri predstavljeni simbolom dolara.
Voćni simboli su najmanje lukrativni i igračima mogu doneti od 2.000 do 4.000 kredita, BAR donosi 6.000, a jasno je zašto je sedmica najpoželjnii simbol jer može doneti čak 20.000 kredita. Ukoliko igrači dobiju pet skatera mogu da dobiju neverovatnih 400.000 kredita. Wild simbol igrači mogu dobiti u drugom, trećem i četvrtom redu i oni mogu zameniti bilo koji simbol u igri osim skatera. Kao i kod drugih slot igara ovog tipa, postoji opcija autoplay koju igrači mogu podesiti da automatski okreće slot umesto njih.
Grafika
U slučaju Flaming Hot slot igre može se reći da je grafika skoro besprekorna, iako na prvi pogled ne deluje da je visokog kvaliteta. Interfejs igre veoma dobro izgleda i mada je jednostavan, vizuelno izgleda izuzetno dobro. Takođe nema dodatnih i suvišnih detalja koji bi igračima odvraćali pažnju od same igre.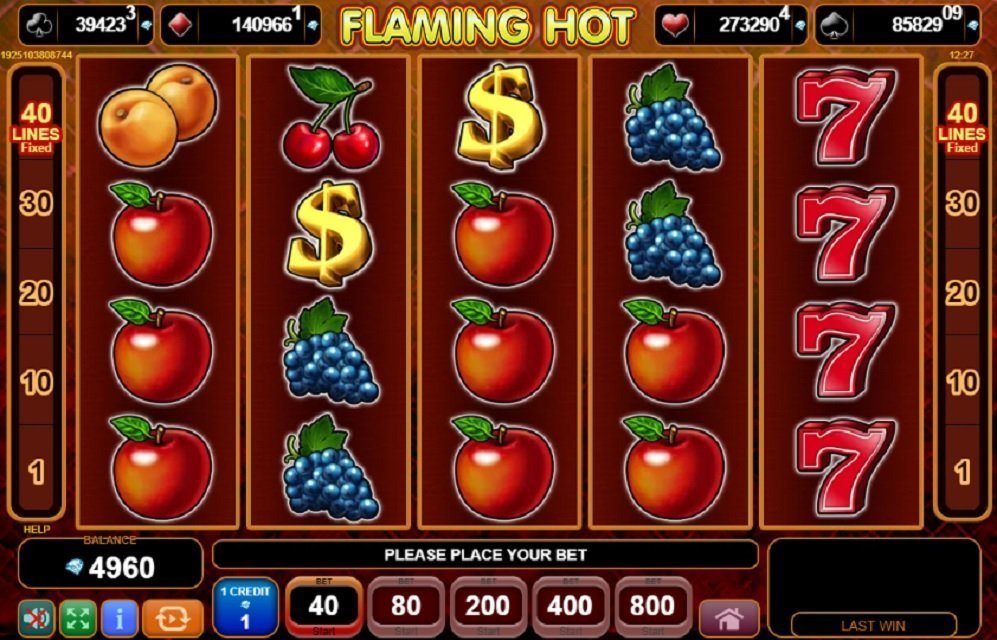 Audio
Mada se EGT softverski veoma potrudio oko Flaming Hot igre, zvuk definitivno nije unapređen u odnosu na igre ovog tipa. Kao i kod ostalih igara, zvuk je i kod Flaming Hot igre veoma jednostavan. To znači da se i u ovoj igri čuje kratak zvuk prilikom okretanja slota, zatim nešto drugačiji zvuk kada igrači dobiju neki od simbola koji nisu voćni, a tu su i duže melodije koje se mogu čuti kada je ostvaren neki dobitak.
Bonus
Posebni bonusi koji bi igračima povećali dobitak u Flaming Hot igri ne postoje. Mogućnost koju imaju igrači je da ostvareni dobitak posle dobitne kombinacije udvostruče preko opcije ''gamble''. Ova opcija je ista kao i kod drugih igara ovog tipa, igračima će biti ponuđeno da pogađaju boju sledeće karte – crnu ili crvenu. Dobitak će im biti dupliran ukoliko pogode boju karte, dok će izgubiti sve ako naprve pogrešan izbor. Takođe, ao što je slučaj i sa drugim slot igrama ovog tipa, opcija ''gamble'' nije obavezna i igrači mogu da je preskoče.
U Flaming Hot igri moguće je aktivirati opciju Džekpot. Tom prilikom se ispred igrača, licem na dole pojavljuje 12 karata sa po tri pika, trefa i karoa, a zadatak igrača je da spoje karte sa istim simbolom za što kraće vreme, jer što brže to učine ostvaruju i veći dobitak.
Zaključak za Flaming Hot
Ova igra će definitivno biti zanimljiva igračima i svakako bi trebalo da je probaju. Nedostatak bonusa možda će delovati kao razočarenje nekim igračima, ali mogućnost velikog dobtka u osnovnoj igri svakako nadoknađuje taj nedostatak. Nema sumnje da će zbog toga ova igra biti među omiljenima igračima.