Legacy of Dead
Ideja

Grafika

Audio

Bonus
Igraj Legacy of Dead besplatno
Ideja
Ovaj slot predstvlja jo jedan dodatak slotovima na sličnu temu kao što su Book of Dead i Book of Ra. Legacy of Dead je još jedan slot koji za temu ima antički Egipat, a koji je smešten u dubine piramida. Radi se o slotu sa pet redova i deset platnih linija. Legacy od Dead ima devet imbola koje treba složiti u pravilnom redosledu da bi se ostvario dobitak. To su slova A, J, K i Q, zatim broj 10, simboli Horusa, Anubisa, faraona, kao i Tutankamona koji donosi i najviše kredita igračima. Simboli će izgledati veoma poznato igračima što i nije iznenađenje jer su gotovo identični onima iz slota Book of Dead.
Simbol zlatne grobnice u ovom slotu služi i kao skater i kao wild simbol kada može da zameni bil okoji drugi simbol u slotu. Kao i u većini sluajeva kada su ovakvi slotovi u pitanju, Legacy od Dead takođe sadrži opciju autoplay kojom igrači mogu da podese automatsko pokretanje spina, pa ne moraju svako malo odigravati jer će slot to raditi za njih.
Grafika
Legacy of Dead ima možda i najbolju grafiku od svih slotova istog ili sličnog tipa. Simboli su lepo urađeni i u visokoj rezoluciji izgledaju zaista odlično sa prilićno živim bojama. Ono što će verovatno biti od važnosti igračima, pozadina ne odvlači pažnju od slota, boje su svedene, a suvišnih detalja koji bi mogli da jednako privlače pažnju i ometaju sve koji se odluče za ovaj slot, gotovo i da nema.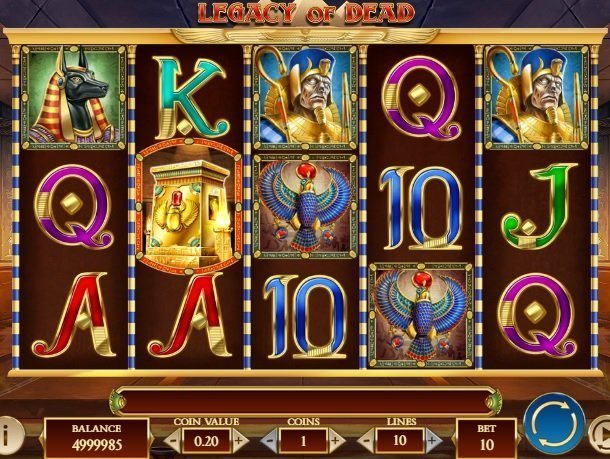 Audio
Kao i u sučaju već pominjanih slotova sa istom ili sličnom tematikom, muzička podloga je skoro identična. Zvuk je veoma orjentalan, što igračima daje zaista osećaj kao da se nalaze u Egiptu okruženi beskrajim peskom. Pokretanje spina ima identičan zvuk koji može posle nekog vremena da bude i dosadana igračima, dok je drugaiji zvuk kada igrači ostvare dobitak, a dužina melodije zavisi i od veličine osvojenog. Prilikom igranja ''gamble'' opcije muzik je znatno dramatičnija i time se naglašava mogućnost da u toj igri igrač ostne bez svega osvojenog.
Bonus
Možda i najbolja stvar u vezi Legacy od Dead slota je mogućnost dobijanja besplatnih spinova. Da bi igrači aktivirali ovu mogućnost, moraju da dobiju tri ili više skater smbola kako bi osvojili deset besplatnih spinova. Ukoliko tokom odigravanja besplatnih spinova igrač uspeo da dobije tri skater simbola, slot će ga nagraditi sa još deset bespatnih spinova.
Ono što je već karakteristika za ovakve slotove, isto je i kod Legacy od Dead koji takođe sadrži ''gamble'' opciju. Ona omogućava igraču da ostvareni dobitak udvostruči tako što će pogoditi boju sledeće karte koja će biti izvučena, odnosno da li će ona biti crne ili crvene boje. Ukoliko igrač napravi pogrešan izbor ostaće bez svega osvojenog, dok ispravan izbor može da mu duplira dobitak. Svaki put kada pogodi, igrač dobija još jednu priliku da bira boju. Ova opcija nije obaezna i igrač je može preskočiti ukoliko nije raspoložen za rizikovanje.
Zaključak za Legacy od Dead
Iako svakako ima sasvim dovoljno slotova sa temom antičkog Egipta, definitivno uvek ima mesta za još, tako da je Legacy od Dead vredna vremena koje će joj igrači posvetiti. Developei su sa ovim slotom igrali na sigurno, ali svakako nisu mogli da pogreše. Ovaj slot neće izazvati veliko oduševljenje, ali svakako neće nikoga ni razočarati jer se radi o slotu koji će svim iskusnijim igračima biti poznat jer je njegova tema već viđena, ali upravo to je i njegova najveća snaga. Si oni koji su igrali Book of Dead sigurno neće želeti da propuste Legacy od Dead.