Dragon Hot
Ideja

Grafika

Audio

Bonus
Igraj Dragon Hot besplatno
Ideja
Video slot Dragon Hot proizvod je provajdera EGT i spoj je slotova sa bajkovitim temama kao i onih klasičnih sa voćnim simbolima. Dragon Hot predstavlja dobru i jedinstvenu kombinaciju oba. Ovaj originalni slot sadrži četiri slot mašine sa po pet kolona i 20 platnih linija i na taj način daje igračima veće mpogućnosti za dobitak.
Prva stvar koja će odmah upasti igračima u oči je dizajn ovog slota. Na levoj strani ekrana je glavni set kolona, dok su na desnoj još tri seta. U realnosti to je jedna slot mašina sa 5 kolona i 20 platnih linija. Svaka od kolona nudi tri simbola u koje spadaju lubenice, trešnje, limunovi, narandže, šljive i grođže, a pored njih tu su i zlatna zvona, ljubičasta zvezda, znak dolara,detelina sa četiri lista i crvena sedmica. Iznad kolona dva, tri i četiri nalaze se tri zmaja i oni će se uključiti u igru tokom aktiviranja wild opcije.
Detelina sa četiri lista je wild simbol koji može zameniti bilo koji drugi simbol u igri, osim skatera koji je predstavljen sa dva simbola – znakom dolara i ljubičastom zvezdom. Kao što je uglavnom slučaj sa video slotovima, tako i ovaj sadrži autoplay opciju, pa igrač može aktivirati nju kako ne bi morao sam da aktivira spinove.
Grafika
EGT se potrudio kada je u pitanju grafika u ovom video slotu i ona izgleda sasvim pristojno, mada se ne može reći da je u bilo kom poglednu revolucionarna. U pitanju je prikaz voća u raznobojnom 3D prikazu i to izgleda prilično dobro. Grafika je detaljna, kao i animacija kojom su prikazani zmajevi kao i njihovo bljuvanje vatre. Takođe tu je i animacija kada se ostvari bilo koja dobitna kombinacija pošto se ti simboli nađu u plamenu, što izgleda prilično dobro. Svakako su u EGT-u dali sve od sebe da u ovom segmentu, ako ne nadmaše, onda makar zadrže standard prisutan u njihovim ranijim video slotovima kada je grafika uz pitanju.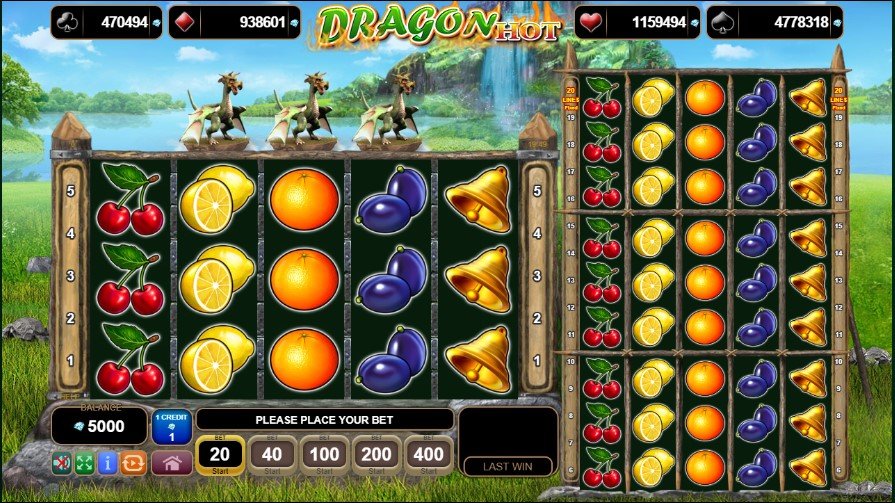 Audio
Za zvuk se bez ikakvih sumnji može napisati da je urađen u klasičnom EGT stilu, koji su igrači mogli već da čuju u prethodnim video slotovima ovog provajdera. Mehanički zvuk čuje se prilikom svakog spina, prisutna je i klasična melodija kada igrač ostvari neki dobitak i ona se ne razlikuje u zavisnosti od toga koliko je veliki dobitak, ali je nešto drugačija ukoliko je dobitak ostvaren uz pomoć wild ili skater simbola. Slično je i kod gamble opcija kada se čuje zvuk mečašanj karata pre nego što igrač pokuša da pogodi boju. Jedino što je drugačije je trenutak kada se aktivira wild opcija i zmajevi se premeste na druge kolone i i prati ih dobro poznati zvuk bljuvanja vatre tokom spaljivanja čitave kolone kako bi se pojavili wild simboli.
Bonus
Među bonus opcijama ovaj video slot, što pomalo iznenađuje, nema opciju besplatnih spinova pa igrači ne mogu da računaju da će na taj način dodatno uvećati svoj potencijalni dobitak.
Ipak, tu je progresivni džekpot koji se dodeljuje potpuno nasumično i tokom kojeg igrač treba da izabere tri karte istog znaka od 12 karata koje dobije, a koje su okrenute licem na dole. Kada izabru tri karte istog znaka osvojiće džekpot koji je predviđen za svaki znak.
Tu je i gambel opcija koja je gotovo pravilo u svakom video slotu. Igrač može da udvostruči svoj osnovni dobitak tamo što će pogađati boju naredne karte koja će biti izvuečna između crvene ili crne. Ako igrač uspe da pogodi boju karte njegov dobitak će biti dupliran, u suprotnom igrač gubi sve što je osvojio.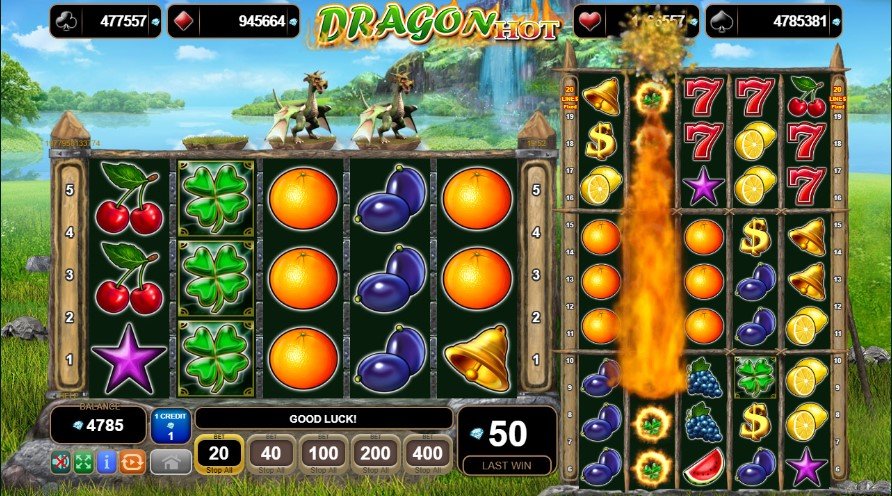 Zaključak
Igrači će sa video slotom Dragon Hot provajdera EGT dobiti prilično interesantno iskustv oprepuno akcije. Opcija pomeranja wild simbola na druge kolone je prilično interesantna, naročito ako igrač uspe da dobije dve kolone ispunjene wild simbolima istovremeno. Postojanje mnogobrojnih skater simbola takođe znatno olakšava igračima. Grafika je takođe veoma solidna u ovom video slotu, iako svakako nije njegov najjači deo. Jasno je da je kod ovog naslova EGT pre svega ciljao na način igranja kako bi ga učinio zanimljivijim igračima i može se reći da je uspeo u tome. Igrači će prilično često uspevati da ostvare dobitak, ali će on istini za volju biti manjeg iznosa, što znači da će igrači morati da imaju malo više strpljenja dok ne dođu baš velikgo dobitka.