Rise of Ra
Ideja

Grafika

Audio

Bonus
Igraj Rise of Ra besplatno
Ideja
Slot Rise of Ra razvijen je od strane provajdera EGT, a igrači ne bi trebalo da ga mešaju sa dobrom poznatim slotom Book of Ra koji je izradio Novomatik. Ipak, igrači će primetiti da ima sličnosti kada su u pitanju simboli korišćeni u oba slota kao i glavna tema. a Rise of Ra je jedan od najpopularnijih slotova koje je izradio EGT.
Kao što se već može naslutiti iz naziva, za razvijanje ovog slota kao tema je korišćen stari Egipat, a način igranja je standardan i ne razlikuje mnogo od onoga što je uobičajno za slotove komapnije EGT. U pitanju je slot koji se sastoji od pet kolona i tri reda i sadrži maksimalno 15 platnih linija. Uobičajno za većinu slotova, Rise of Ra takođe ima opciju autoplay koja omogućava igračima da podese automatsko odigravanje spinova koje mogu isključiti u svakom trenutku.
Što se tiče simbola, svi su povezani sa egipatskm mitologijom. Tu su kovčeg za blagom, ank, vaza i amblem Ra kao simboli koji se najmanje plaćaju, do 100 novića. Mumificirani pas i simbol faraona daju do 125 novčića, sarkofag i svevideće oko Ra do 250 novčića dok simbol hijeroglifa daje do 400 novčića. Najviše vrede simbol samog Ra i njegove ljubavnice koji mogu da donesu do 750 novčića, dok je skarab donosi 10.000 za pet istih. Skater u ovom slotu je označen je natpisom na zidu, dok je je skarab ujedno wild simbol koji menja svaki simbol osim skatera, a kada to uradi svaka dobitna kombinacija se duplira.
Grafika
Grafika u Rise of Ra slotu nije svakako najmodernija na svetu, međutim upravo je njena jednostavnost u velikoj meri omogućila da se na pravi način prikaže istorijska tema igre. Simboli u slotu su veoma jasno i precizno prikazani uz korišćenje efekta animacije što daje prilično solidan utisak. Boje nisu prejake i neće iritirati igrače posle dužeg igranja, pa je ukupan utisak vrlo dobar. U svakom slučaju, grafika u Rise of Ra nije ništa revolucionarno, ali svakako odrađuje tačno ono što treba kada su u pitanju onlajn slotovi.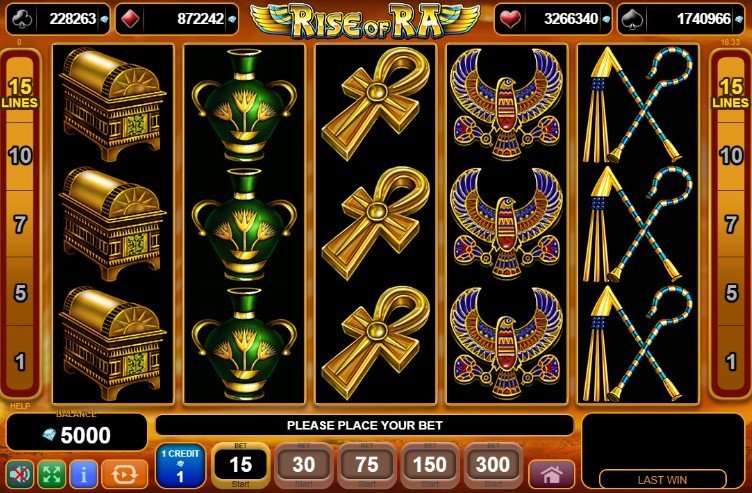 Audio
Kao i u slučaju grafike, slot Rise of Ra ni po pitanju zvuka ne donosi ništa epohalno i što nije već viđeno kada su u pitanju vieo slotovi komapnije EGT. Pokretanje spina praćeno je dobro poznatim mehaničkikm zvukom, a već je dobro poznata i melodija koja se javlja u slučaju dobitaka i ona se ne razlikuje u zavisnosti od visine osvojenih novčića. Pošto nema nekih novina koje bi mogla da iznenade igrače kada je zvuk u pitanju, verovatno će im posle nekog vremena zvučni efekti u ovom slotu biti pomalo i monotoni.
Bonus
Što se tiče mogućnosti bonusa u ovom slotu, prva opcija su besplatni spinovi. Igrači do njih mogu doći sa tri ili više dobijenih skatera i tako dobijaju 15 besplatnih spinova, a tokom svakog od njih dobitak će biti trostruko uvećan.
Tu je i gamble opcija u kojoj igrači mogu duplirati osvojeni iznos. Igrači pogađaju koje će boje biti sledeća karta na izvlačenju, crvena ili crna. Međutim, ako ne pogode gube sav osvojeni novac.
Progresivni džekpot nije baš čest, ali je zanimljiva mogućnost za igrače. Igrači će morati da biraju između 12 karata koje su okrenute licem na dole dok ne dobiju tri ista znaka. Dobitak igrača će zavisiti od toga koja je tri ista znaka izvukao.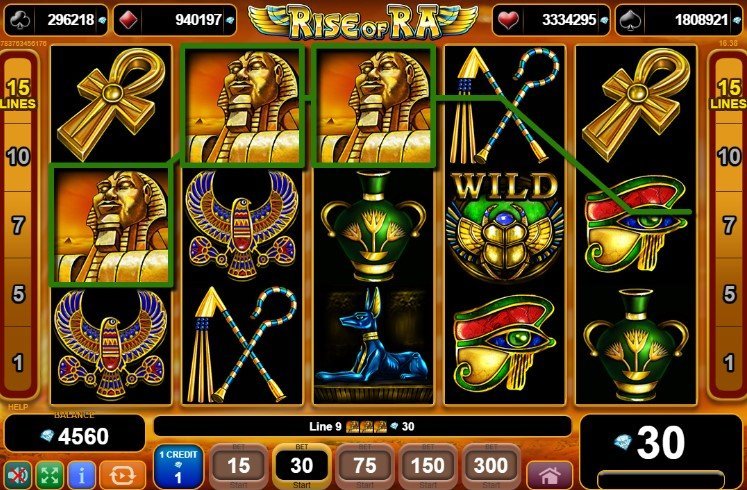 Zaključak
Slot Rise of Ra jedan je od nakreativnijih na tržištu kada je u pitanju tema Egipta. Dizajn slota i način igranja možda nisu među vrhunskim, ali isto tako igrači neće imati nikakve smetnje tokom igre. Verziranim igračima će se svakako dopasti raznolikost dodatnih mogućnosti i cifre koje je moguće osvojiti, dok će onim sa dubljim džepom odgovarati prilika da se klade na velike iznose nan način koji njima odgovara.
Kao mana ovog slota može se istaći nedostatak mobilne aplikacije i vrlo redak džekpot, ali i to u neku ruku daje draž ovom slotu.