Crystal Hot 80
Ideja

Grafika

Audio

Bonus
Igraj Crystal Hot 80 besplatno
Ideja
Crystal Hot 80 je video slot provajdera Fazi Interactive koji nudi igru u retro stilu sa osnovnim stilom igranja u pet kolona sa četiri reda i čak 80 platnih linija sa temom voćkica, a inspirisana je nekadašnjim slot mašinama. Iako je tema voćkica prilično korišćena, tačnije verovatno i najčešća, ne znači da takav slot ne može da bude zanimljiv za igru, a upravo je takav Crystal Hot 80. Ovaj video slot Fazija je zapravo napređena verzija izdanja Crystal Hot 40 sa dodatnih 40 platnih linija koje će igračima omogućiti ozibljne dobitke pošto je igra prvenstveno okrenuta iskusnijim igračima koji su spremniji da rizikuju.
Ovaj video slot sadrži šest osnovnih simbola, a to su lubenica, trešnja, šljiva, narandža, limun i grožđe i oni donose maje dobitke. Wild simbol u ovom video slotu je crvena srećna sedmica koja menja bilo koji od osnovnih simbola kako bi se formirala dobitna kombinacija, a i sama može doneti igračima veliki dobitak. Skater simbol je kristalna zvezda i on je takođe platni na bilo kojoj poziciji, a ako igrač dobije pet skatera bilo gde u kolonama osvojiće najveći dobitak.
Slot ima autoplay opciju kojom igrač može podesiti automatske spinove da ne bi morao da svaki put on to radi, a takođe može da odredi koliko spinova će aktivirati ovom opcijom i može da bira od pet do 1.000.
Grafika
Kao i u slučaju prethodnika, Crystal Hot 40, kod ovog video slota je Fazi napravi odobar posao kada je u pitanju grafika. Simboli izgledaju kao da su napraviljeni od kristala i to je vrlo lepo prikazano, uz prateći efekat da sve izgleda kao da je u 3D. Pozadina slota je zlatne boje, dok su boje voćkica iako malo jače prijatne za oko. Urađena je posebna animacija kad igrači ostvare dobitak pošto se pojavljuju plamenovi, dok se simboli koji čine dobitnu kombinaciju presijavaju. U gamble opciji su karte vrlo jasno prikazane, a ukupan utisak je da je Fazi kao i kod prethodnika puno pažnje posvetio ovom segmentu.
Audio
Pošto je Fazi Interactive ovaj video slot uradio sa idejom retro stila na umu, na sličan način je urađen audio segment. Pokretanje slota prati vepma jednostavan zvuk koji se ponavlja i mogao bi vrlo brzo da dosadi igračima. Posebna melodija se čuje prilikom dobitnih kombinacija, a kao i kod prethodnika Crystal Hot 40 i ovde je melodija različita u zavisnosti od toga sa kojim simbolima je dobitna kombinacija napravljena.
Kada igrač odluči da dobitak prebaci na svoj ukupan iznos čuje se zvuk zveckanja novčića dok se broji ostvarena suma. Poseban zvuk se čuje kada se igrači odluče na gambling opciju, dok je odgovarajućim zvukom ispraćeno i mešanje špila karata dok igrač pogađa koje je boje sledeća. Iako nema ničeg revolucionarnog u ovom segmentu, Fazi je uradil sasvim dobar posao kada je audio kod ovog video slota u pitanju.
Bonus
Ukoliko se igrači odluče za Crystal Hot 80 video slot i očekuju bonus opcije i besplatne spinove, mogli bi da se ozbijlno razočaraju igrajući ovo izdanje Fazija i vieći šta je u ponudi. Ipak, već je napomenuto da je ovo ipak igra za one ozbiljnije i iskusnije igrače koji su spremni da se upuste u nešto više rizika jer se sve svodi na maksimalno korišćenje šansi za pobedu, a Crystal Hot 80 je i kreiran da igračima pomogne upravo u tome.
Wild simbol u ovom slotu kao što je i uobičajno služi da zameni sve ostale simbole kako bi se formirala dobitna kombinacija, ali i sam može doneti lepu isplatu igračima ukoliko se pojave tri ili više crvene srećne sedmice. Skateri uglavnom donose bespaltne spinove, ali ih ovde nema. Međutim, skater simbol odnosno tri ili više skatera mogu doneti veliki novčani dobitak.
Ono što je Crystal Hot 80 video slot zadržao od uobičajnih bnus opcija je mogućnost kockanja, odnosno gamble opcija. Uz pomoć ove opcije igrač može da udvostruči svoj gubitak tako što će pogađati boju naredne karte odnosno da li će ona biti crvena ili crna. Ukoliko pobedi njegov iznos se duplira, ali ako promaši gubi sve što je uložio u igru. Šanse su 50/50, ali nije svako spreman na takav rizik.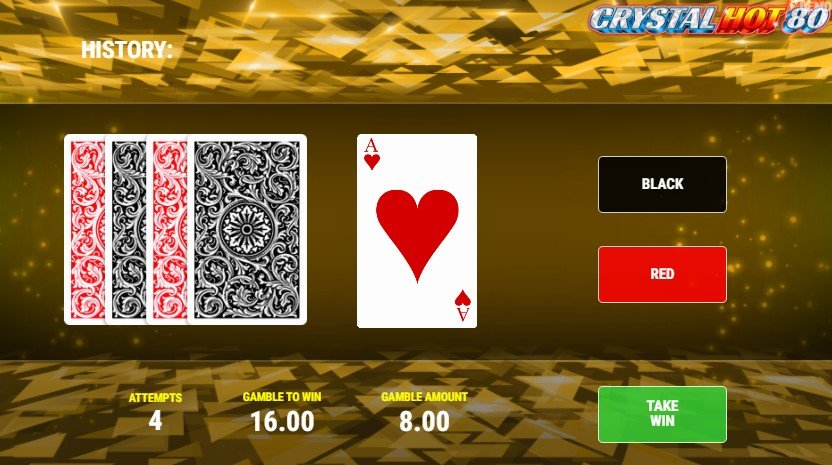 Zaključak
Svi oni igrači koji su veliki ljubitelji klasičnih video slotova uživaće u igranju ovog izdanja provajdera Fazi Interactive sa 80 platnih linija. Crystal Hot 80 nema bonus opcija, nema dodatnih igara već je reč o najklasičnijem mogućem slotu koji se možda i neće dopasti igračima koji vole da uz pomoć dodatnih opcija povećaju svoj dobitak, ali će zato oni iskusniji koji su spremni na veći rizik pokušati da ostvare velike pobede za koje postoji prilika u ovom video slotu. Zbog toga ovaj video slot moždai nije najbolji izbor za početnika ili makar oni ne bi trebalo da ga igraju odmah za pravi novac već da prvo malo provežbaju igrajući besplatno demo verziju.