Narcos
Ideja

Grafika

Audio

Bonus
Igraj Narcos besplatno
Ideja
U skladu sa jednom od najpopularnijih Netfliksovih serija, kompanija NetEnt odlučila je napravi slot pod istim nazivom Narcos, a to je jedna od najsvežijih slot igara ove kompAnije. Mada serija obiluje nasiljem i narkoticima, to je u ovoj slot igri maksimalno svedeno i Kolumbija iz 70-ih predstavlja samo podlogu za ovu igru.
Narcos ima klasičnu postavku slot igara od pet linija sa tri reda i daje mogućnost da igrači osvoje dobitak na čak 243 načina. Simbole u ovoj igri prestavljajusilizovani crteži Pbla Eskobara, agenata Penje i Marfija, zatim jedan od Eskobarovih devojaka, kao i flamingosi, avioni i karte okružene oružjem, bombama i novcem. Tu su i slova A, J, K i Q. Skater simbol u ovoj slot igri predstavlja automobil Pabla Eskobara, dok je policijska značka wild simbol koji može da zameni bilo koji od osnovnih simbola. I ovaj slot ima mogućnost autoplay, pa igrač može podesiti da se spinovi automatski pokreću.
Grafika
Slotovi koji se baziraju na televizijskim serijama najčešće koriste prave fotografije glumaca, ali su u slučaju Narcosa likovi prikazani u vidu realističnih crteža, što ne izgleda uopšte loše. Kompletan slot je urađen u stilu animacije, a pozadina se menja u zavisnosti od toga da li su aktivirane neke bonus runde. Grafika je veoma kvalitetno urađena, a svojim stilom prilično podseća na popularnu video igru GTA što može da bude od velike pomoći u privlačenju većeg broja igrača.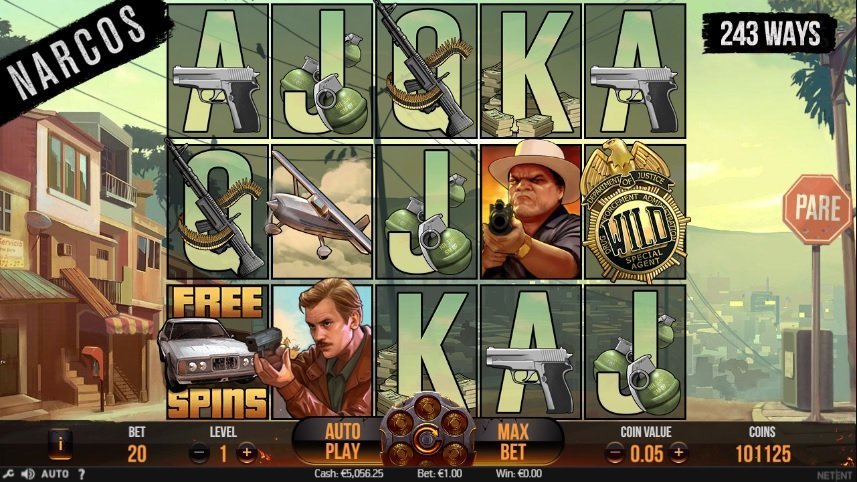 Audio
Muzička podloga se odlično uklopila u atmosferu slota, pošto se čuje muzika marijačija koja doduše ije u dirketnoj vezi sa serijom, ali je dobro iskorišćena. Karakterističan je zvuk pokretanja slota pošto je u pitanju burence pištolja, a postoji i nekoliko melodija kada se ostvari dobitak. U svakom slučaju u NetEntu su i sa muzikom upeli da naprave pogodak, pošto se sve lepo uklopilo i daje pravu atmosferu koja je dobro poznata ljubiteljima serije.
Bonus
Narcos ima nekoliko interesantnih bonus opcija koje nudi igračima. Jedna od osnovnih bonus opcija su besplatni spinovi koji se dobijaju preko tri sakter simbola. Igrač dobija 10 besplatnih spinova, a tokom njihovog igranja simboli koji daju više kredita mogu da se pretvore u vajld simbo što donosi i veći dobitak.
Postoji i bonus koji igrač aktivira ukoliko dobije tri ili više takozvanih ''zaključanih'' simboa u istom redu. Taj simbol je prikazan kao policijska fotografija Pabla Eskobara, a igrač dobija tri besplatna spina. Tokom odigravanja ovog bonusa samo ''zaključani'' i ''zlatni zaključani'' simboli mogu da se pojave u linijama i igrači mogu doći do velikog dobitka ukoliko dobiju pobedničku kombinaciju. ''Zlatni zaključani'' simboli su prikazani kao zlatni kofer u kojem mogu biti novčane nagrade, besplatni spinovi.
Zaključak za Narcos
Mnogo je ljudi u svetu potpuno ''poludelo'' za serijom Narcos i jasno je da je NetEnt želeo to da iskoristi, a uradili su odličan posao sa ovim slotom. Jasno je da će u ovom slotu uživati i oni igrači koji uopšte ne prate televizijsku seriju, što samo govori koliko je dobar posao NetEnt uradio sa ovim slotom. Za igrače koji žele slot ispunjen akcijom i određenim dodacima, Narcos slot je prava stvar.