Pyramid: Quest for Immortality
Ideja

Grafika

Audio

Bonus
Igraj Pyramid: Quest for Immortality besplatno
Ideja
Pyramid quest for immortality delo je provajdera NetEnt i još jedan je u nizu video slotova koji u osnovi ima ideju antičkog egipta, piramida i potraga za skrivenim blagom faraona. Upravo je to i suština ovog izdanja NetEnt-a pošto će igrač ibiti u potrazi za velikim bogatstvom faraona sakrivenim u piramidama.
Ovo je video slot u pet kolona sa čak 720 načina da igrači ostvare dobitak u kojem nema klasičnog okretanja spinova pošto simboli padaju u kolone. Pošto je tema već mnogo puta korišćena kod video slotova, igrači će prilično lako prepoznati većinu simbola u ovoj igri. Simboli koji su manje vrednosti prikazani su znakovima karata za igranje i tu su 10, J, Q, K i A, a na njima se nalaze i hijeroglifi kojima su predstavljeni oko boga Ra, ptice, zmije i tako dalje.
Među simbolima koji imaju veću vrednost nalazi se zlatna kobra koja igraču daje ulog uvećan osam puta, zatim su tu Horus sa 10 puta uvećanim ulogom, a Skarab nagrauje igrača sa dobitkom 15 puta većim od uloga. Kleopatra kao drugi najvredniji simbol donosi igraču do 25 puta više od uloga, dok najviše donosi simbol Faraona, čak 50 puta više od uloženog. Kao wild simbol u ovom video slotu služi simbol Zlatni Ank i on zamenjuje sve druge simbole u ovoj igri, dok skater simbol ne postoji u ovom slotu.
Grafika
Grafika u Pyramid quest for immortality odlično je urađena i upravo zahvaljujući njoj se od prvog poteza u igri oseti atmosfera antičkog Egipta. Ove je Net Ent uspeo da uradi vrlo dobar posao. Pozadinu slota čini piramida čijji se obrisi video u noći, dok su kolone zaštićene od strane Ra i Anubisa koji vrlo dobro prikazani. Simboli koji imaju manu vrednost su i jednostavnije prikazani, dok su oni vredniji znatno kompleksnijeg izgleda uz mnogo živih boja. Ipak i jedni i drugi su grafički dobro urađeni, a boje su vrlo žive, ali ne i naporne ako se duže vreme igra ovaj slot. Takođe animacija prilikom nestajanja simbola iz dobitne kombinacije i padanja novih je takođe dobro urađeno.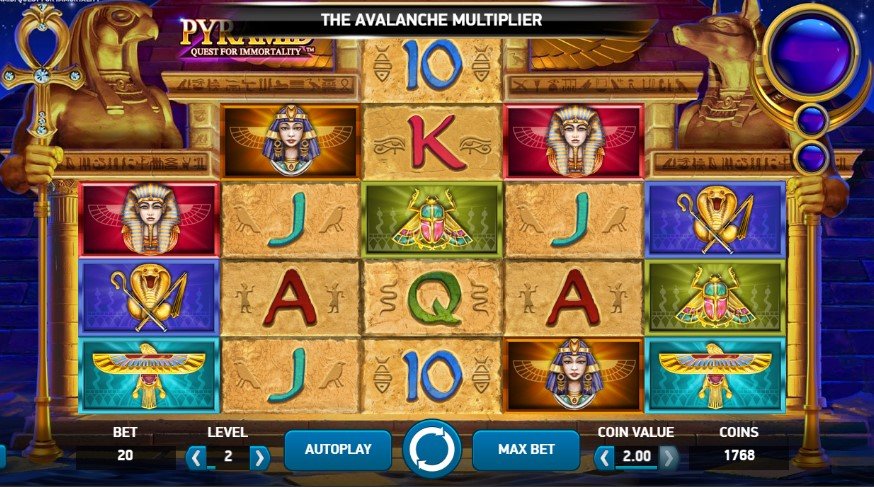 Audio
Zvukovi u ovom video slotu u svakom smislu stvaraju atmosferu antičkog Egipta. Osim dobro urađenih zvučnih efekata kada se obrušavaju kameni blokovi na kojim se nalaze simboli koji su formirali dobitnu kombinaciju, mogu se čuti i dodatni zvukovi kada igrač uspeo da dođe do nekog dobitka. Međutim, ovi zvukovi su prilično repetativni i verovatno će biti pomalo i dosadni u nekom trenutku ako igrač bude duže vreme proveo uz ovaj video slot. Dodatni zvuk se javlja prilikom aktivacije multiplikatora. Muzika u globalu kada je ovaj video slot u pitanju ne ostavlja ni najmanju neodumicu koja je tema ovog izdanja NetEnt-a.
Bonus
Ovaj video slot nažalost nema u ponudi besplatne spinove ili neke druge bonus opcije, pa se sve svodi na padajuće simbole u kolonama. To znači da, pošto slot ne funkcioniše u klasičnom smislu sa spinovima već simboli padaju u kolone, kada se ostvari dobitna kombinacija, simboli iz te kombinacije se uklanjaju i na njihovo mesto dolaze novi pa postoji mogućnost da se napravi još jedna dobitna kombinacija.
Ukoliko igrač uspe da poveže tri dobitne kombinacije, multiplikator će se povećati za jedan, a kada se pobednički niz završi multiplikator se resetuje. Što se tiče wild simbola, on se pojavljuje u tri centralne kolone i ako se pojavi na vrhu kolona dva, tri ili četiri kao deo dobitne kombinacije onda se pretvara u wild simbol za sledeće simbole koji će pasti u kolonama.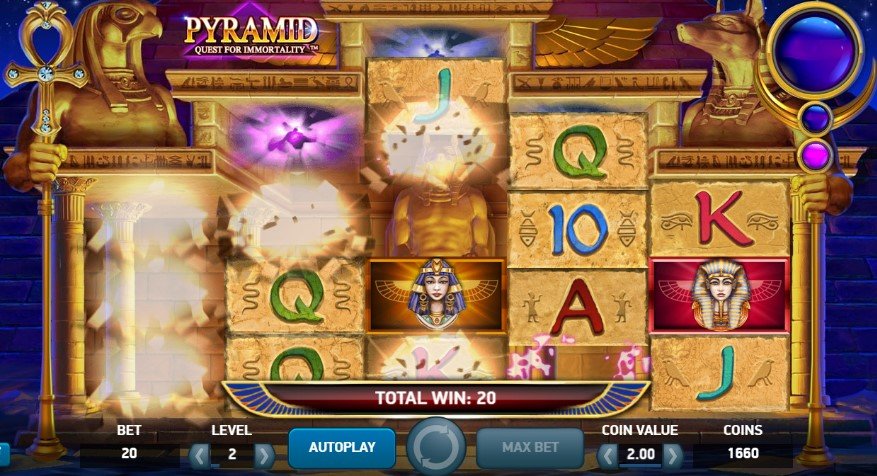 Zaključak
Pyramid quest for immortality deinitivno ne spada u grupu video slotova koju su prepuni akcije i mnogo dešavanja tokom igre. Pošto nema besplatnih spinova i drugih bonus opcija u ponudi, to ga vrovatno neće činiti preterano privlačnim igračima, ali na drugoj strani kolone koje se obrušavaju u kombinaciji sa multiplikatorom koji se povećava sa svakom pobedom u nizu mogao bi da zadrži igrače zauzetim dovoljno dugo uz ovo izdanje NetEnt-a. Možda i jedina prava mana ovog video slota je činjenica da se multiplikator resetuje posle svakog spina koji nije doneo dobitnu kombinaciju, ali čak ni to ne treba da bude razlog da igrači ne probaju ovaj video slot jer dobitak može da bude više nego zadovoljavajuć. Ipak, ovo je slot koji bi više odgovarao iskusnijim igračima.