Secrets of Alchemy
Ideja

Grafika

Audio

Bonus
Igraj Secrets of Alchemy besplatno
Ideja
Ovaj slot provajdera EGT dobar je izbor za sve one koji vole priče o alhemiji i pretvaranju svega što postoji u zlato, kao što su to pokušavali alhemičari tokom srednjeg veka. Ovakvih slotova sa ovom temom i nema previše, pa je EGT rešio da i na ovaj način privuče igrače.
Simboli su igri upravo onakvi kakvi bi se očekivali od slota kojem je tema alhemija. Tu su zlatne ruže, zlatne poluge, velika knjiga alhemičarskih recepata, zatim muškarac i žena. Pristuni su i simboli slova J, Q, K i A, a ovaj slot ima skater i wild. Skater simbol je predstavljen dvorcem na lebdećem ostrvu, dok je wild simbol prikazan kao alhemičar koji stoji iznad knjige recepata za alhemiju.
Secrets of Alchemy ima postavku od tri reda u pet kolona sa 25 platnih linija. Kao što je već potpuno očekivano, ovaj slot sadrži autoplay opciju kojom igrači mogu da podese da odigravanje spinova bude automatski, a da ne moraju oni svaki put da pritiskaju dugme. Ova opcija se lako uključuje i isto lako isključuje.
Ovaj slot donosi igračima veliki broj kombinacija i zbog toga je savršen sve tipove slot igrača, bez obzira da li oni vole da igraju u male uloge ili su spremni da ulože mnogo novca.
Grafika
Iako EGT u ovom segmentu retko kad omane, ovog puta se može reći da je upravo to slučaj jer je grafika definitivno slabiji deo Secrets of Alchemy. Iako se sve šareni od boja u ovom slotu, sve to ne deluje baš usklađeno posebno pošto je cela pozadina slota u zelenoj boji koja se kreće od tamnije ka svetloj, što se uklapa sa njegovom temom. Simboli muškarca i žene odrađeni su suviše generićki i deluju zastarelo, iako ostatak slota ne odaje takav utisak. Simboli slova su urađeni da odaju utisak poludragog kamenja, ali se upravo tako urađena ne uklapaju sa ostatkom simbola.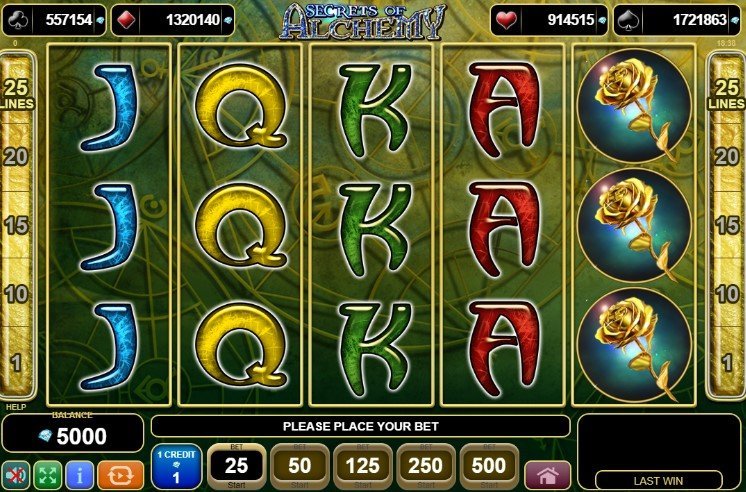 Audio
Recept koji ETG najčešće primenjuje kada se radi o slotovima koje on proizvede po pitanju zvuka, nije promenjen ni u ovom slučaju. Igrači će čuti dobro poznat mehanički zvuk prilikom okretanja spina, kao i kratki zvuk kada se na ekranu pojavi simbol skatera. Postoji posebna melodija koja se neznatno razlikuje od vrste dobitka koja pripadne igraču, ali generalno nema mnogo promena po tom pitanju u odnosu na druge slotove kompanije EGT. Verovatno je da će posle nekog vremena zvuk igračima postati prilično monoton.
Bonus
Bonus opcije u ovo slotu su manje-više standardne kada su slot igre u pitanju. Igrač može da osvoji sedam besplatnih spinova ukloliko dobije tri skater simbola koji aktiviraju tu opciju. Ukoliko se u toku odigravanj besplatnih spinova dogodi da igrač ponovo dobije tri skater simbola, ti besplatni spinovi se dodaju na već postojeće.
Gamble opcija se javlja svaki put kada igrač ostvari dobitak. Dobijenu sumu igrač može da kocka tako što će pogađati koje će boje biti naredna karta koja će biti izvučena, crvena ili crna. Ako igrač pogodi boju njegov dobitak će se udvostručiti, ali ako promaši izgubiće sve. Ova opcija nije obavezna i igrači mogu da biraju hoće li je koristiti ili ne.
Džekpot bonus je igra sa kartama u kojima igrač dobija 12 karata sa licem okrenutim na dole i treba da izabere tri karte istog znaka. Najmanje vrede karte sa znakom trefa, a zatim slede herc, karo i pik kao najvredniji znak.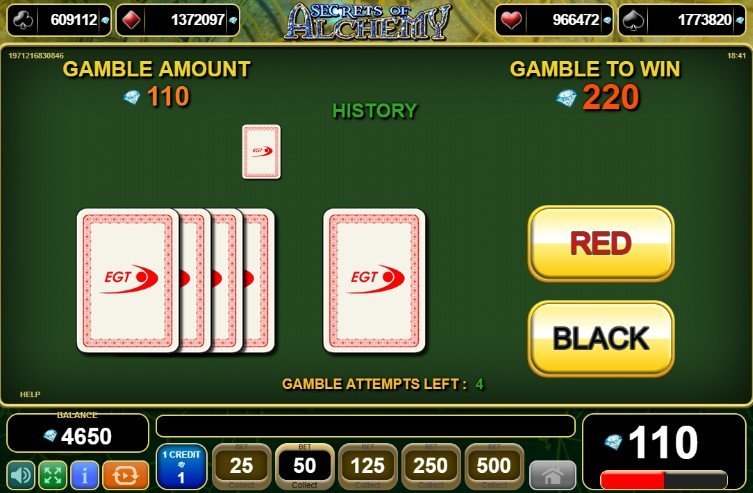 Zaključak
Ovaj slot će definitivno privući pažnju igračima. Secrets of Alchemy ima sasvim dovoljno dodoatnih opcija koje će potpuno zaokupiti igrače. Iako deluje komplikovano u početku, igrači će brzo ući u štos i lako će se kretati kroz opcije u igri kada se dobro upoznaju sa kontrolama. Ono što će posebno biti zanimljivo igračima je činjenica da sa 25 platnih linija ovaj slot nudi mnogo mogućnosti za dobitak, pa će igrači zbog toga lako preći čak i preko relativno skromne grafika i zvuk koji su definitivno mogli da budu bolji.