The Angler
Ideja

Grafika

Audio

Bonus
Igraj The Angler besplatno
Ideja
The Angler video slot je delo provajdera BetSfot i inspirisan je temom sportskog ribolova, a igraču društvo pravi tibolovac Otis koji se nalazi pored samo slota. Ovo je slot od tri reda sa pet kolona i 20 platnih linija koji sadrži i autoplay opciju kojom igrač može podesiti automatsko okretanje spinova, pa on neće imati nikakvu drugu obavezu osim da gleda kako se vrte spinovi i osvaja novac.
U ovom slotu se nalaze četiri simbola slova koja najmanje plaćaju J, Q, K i A, kao i pet simbola morskih životinja koji su srednje vrednosti. Najplaćenija kombinacija standardnih simbola je ako igrač dobije pet simbola Otisa ribara. Specijalni simboli uključuju wild simbol koji je predstavljen crvenim ljutom hobotnicom, zatim je tu skater simbol kao školjka sa biserom, kao i bonus sibol predstavljen kofom punom ribe.
Wild simbol hobotnice služi kao zamena za sve druge simbole osim skatera i bonus simbola i može se pojaviti u svim kolonama osim u koloni jedan. Skater simbol se može pojaviti u kolonama dva, tri i četiri, a ako igrač dobije tri skater simbola aktivira opciju besplatnih spinova. Bonus simbol će aktivirati Fish bonus igru ukoliko igrač uspe da ih dobije u kolonama jedan, dva ili tri.
Grafika
Među najjačim kvalitetima The Angler slota jeste njegova grafika. U BetSoftu su se zaista potrudili i to se vidi na svakom koraku. Insipirsan je sportskim ribolovom, a delimično i animiranim filmom "Pronaći Nema" što se vidi i po stilu grafike, kao i po izgledu likova u slotu koji su urađeni u stilu crtanih filmova. Impresivna grafika zaslužna je za odličnu atmosferu za igranje ovog slota za jezerom i planinama u pozadini. Svaki dobitak će se prikazati u balončićima što je takođe odlično napravljeno. BetSoft je sa grafikom u stilu crtanih filmova definitivno pogodio u ovom slotu.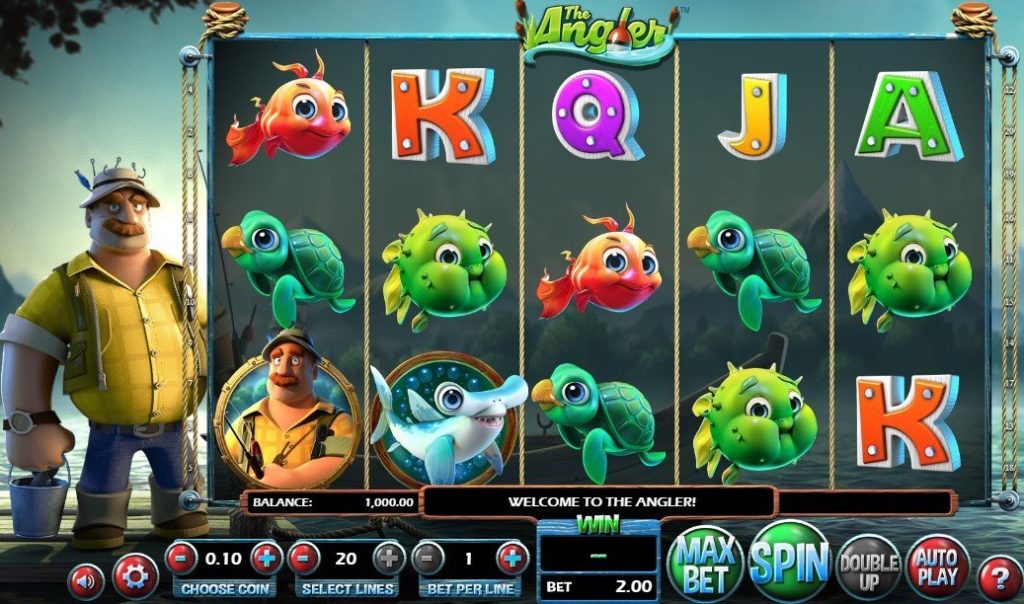 Audio
Sa sjajnom 3D grafikom BetSoft je uspeo da uklopi i odličnan zvuk. Konstatno se tokom igranja ovog slota čuje prilično umirujuča melodija koja se u potpunosti uklapa sa ukupnom atmosferom koju stvara The Angler zbog čega bi igračim čak i svaki potencijalni gubitak mogao mnogo lakše da padne. Zvuk okretanja spina podseća na balončića koji se stvaraju prilikom zaranjanja, a svaki dobitak praćen je melodijom koja se ne razlikuje od toga kolika je visina dobitka. Poseban zvuk je prilikom igranja gamble opcije, odnosno bacanja novčića.
Bonus
Besplatni spinovi jedna su od bonus opcija u slotu The Angler. Mogu se aktivirati dobijanjem tri skater simbola bilo gde u kolonama tri, četiri ili pet. Wild simbol hobotnice ostaje i dalje na svom mestu tokom odigravanja besplatnih spinova što je odlična vest za igrače.
Fish bonus igra aktivira se dobijanjem tri bonus simbola u kolonama jedan, dva ili tri. U ovoj igri će biti testirana sposobnost igrača da pecaju. Što više riba igrač ulovi, to će osvojiti više novca. Igrači će u ovoj bonus rundi biti nagrađeni sa 100 kredita, pa čak i ako ne budu imali mnogo sreće u pecanju, neće otići potpuno praznih ruku.
Gamble ili double up opcija je mogućnost da se igrač kocka sa polovinom svog dobitka ili sa kompletnim dobitkom ukoliko je voljan da rizikuje koliko god puta želi. Igrač bira da li ulaže pola svog dobitka ili sve i bira između glave i pisma na novčiću. Pogodak će duplirati incijalnu opkladu, dok će promašaj značiti gubljenje svega.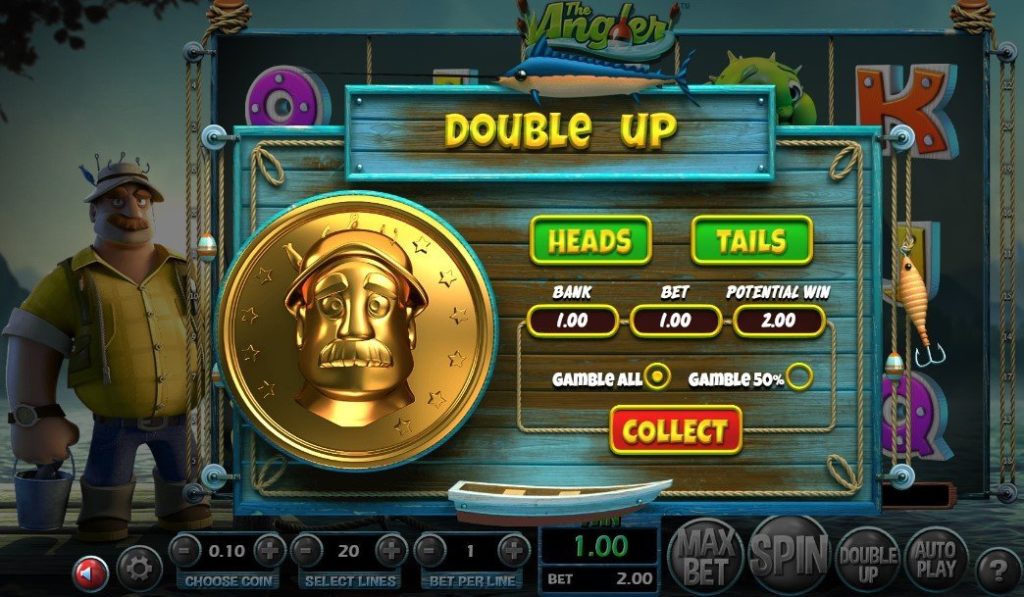 Zaključak
Da bi uživali u slotu The Angler koji je proizveo provajder BetSoft, igrači ni ne moraju da budu ljubitelji ribolova i to im svakako neće oduzeti ništa od iskustva igranja ovo slota. Igrači će uživati u 3D grafici koja je impresivna i u veoma autentičnim scenama koje će zaista omogućiti igračima da makar na kratko uživaju u miru i tišini kao što je slučaj u pravom ribolovu. Upravo su mir i tišina u suprotnosti sa, kao po pravilu, veoma bučnim slotovima, ali će ovo predstavljati malo drugačije iskustvo igračima.
Ipak, The Angler nudi mnogo više od estetskog doživljaja pošto je slot prilično popunjen rzličitim opcijama počevši od besplatnih spinova pa do bonus igre. Ovaj slot ima određenu kompleksnost što znači da i nije baš prepopručljiv totalnim novajlijama i da će ipak više odgovarati igračima sa koji su prethodno već stekli određena iskustva sa slotovima.