Fruit Zen
Ideja

Grafika

Audio

Bonus
Igraj Fruit Zen besplatno
Ideja
Fruit Zen slot je još jedan sjajan video slot BetSofta, istog onog softver provajdera koji je zaslužan za sjajne naslove kakvi su Boomanji, Sugar Pop i True Sheriff. Ovaj slot je je postavljen u tri reda i pet kolona sa 10 platnih linija koje se isplaćuju sa leve na desnu ili sa desne na levu stranu, u zavisnosti od toga koja pobednička kombinacija je jača.
Osim što je jasno iz imena jasno da je u pitanju slot sa temom voća, takođe je tema i zen odnosno smirenost. I zaista čitava igra odiše smirenošću, tako netipičnom za slot u onlajn kazinu i igrači će brzo uću u taj osećaj igrajući ovaj slot.
Voće predstavlja simbole u igri, a tu su narandže, grožđe, lubenice, šljive, limunovi, trešnje i maline. Od ovih simbola, narandže su voćni simbol koji donosi najviše novčića. Tu je i Fruit zen simbol koji služi kao wild simbol, dok skatera nema u ovom slotu BetSofta. Ovaj slot takođe prati standard po pitanju autoplay opcije koju igrač može podesiti da automatski vrti spinove umesto njega, a može je u svakom trenutku isključiti kako bi on vrteo pokretao slot i vrte spinove.
Grafika
Jedan od najjjačih aduta Fruti Zen slota svakako je grafika. Ona je toliko kvalitetno urađena i potpuno prati osnovnu temu ovog slota. Da je reč o ozbiljnom kvalitetu lako je primetiti iz samog izgleda simbola voća u slotu, jer ono zaista deluje kao pravo i nudi pravo 3D iskustvo, a ne deluje kao da je samo stavljena sličica što ume da bude relativno čest slučaj kod slotova koji u osnovi imaju temu voća.
Boje voća i čitavog slota su odlično urađene, sve je jasno i precizno prikazano. U pozadini slota prikazano je lagano talasanje vode i taj efekat animacije je takođe vrhunski odrađen i igrači će istinski uživati u ovim prizorima i izgledu slota dok budu igrali. BetSoft se zaista potrudio da pruži sjajno vizuelno iskustvo igračima koji se odluče za ovaj slot.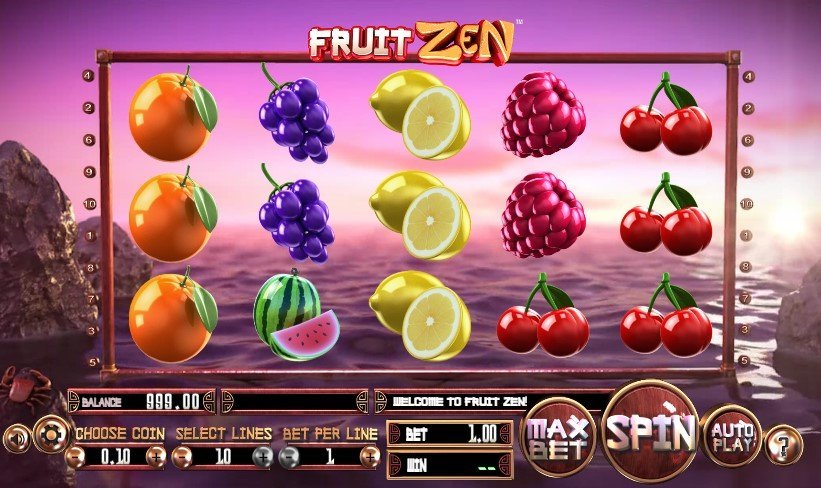 Audio
Može se reći da je, poput grafike, BetSoft vrlo dobar posao uradio i kada je u pitanju zvuk u slotu Fruit Zen. Zvučni efekti u potpunosti prate umirujući ton igre, pa će tako igrači konstantno u pozadini čudi umirujuću melodiju tokom igranja. Pokretanje slota prati mehanički zvuk, dok prilikom ostvarenog dobitka ide nešto duži zvučni efekta koji se doduše ne razlikuje u odnosu na to da li je dobitak manji ili veći. Kada igrač dobije wild simbol, u tom trenutku se čuje gong, što je i jedini trednutak kada je umirujući ton Furit Zen slota narušem. Ukupno gledano, utisak je vrlo dobar kada je zvuk u pitanju i samo će dodatno pojačati osećaj smirenosti kod igrača dok igraju ovaj slot.
Bonus
Slotovi provajdera BetSoft su poznati po različitim opcijama i bonusima koje imaju, pa se eni Fruit Zen ne razlikuje po tom pitanju. Glavna opcija ovog slota je Fruit Zen simbol koji je ujedno wild i koji se širi po celoj koloni kada ga igrač dobije, a dobitne kombinacije se isplaćuju. Takođe, tom prilikom igrač dobija i besplatni spin, a kolona u kojoj je Fruit Zen simbol ostaje zaključana tokom odigravanja besplatnog spina.
Svaka dodatna pobednička kombinacija će biti isplaćenatokom odigravanja besplatnog spina. Postoji mogućnost da se dodatni Fruit Zen simbol pojavi tokom besplatnog spina i kada se to desi biće aktiviran ponovo besplatni spin. Igrači treba da znaju da se simbol Fruit Zen pojavljuje samo u kolonama dva, tri i četiri.
Zanimljivo da ovaj slot nema gotovo uobičajnu gamble opciju koja je deo većine drugih slotova, tako da igrač nema priliku da na taj način eventualno uveća svoj dobitak.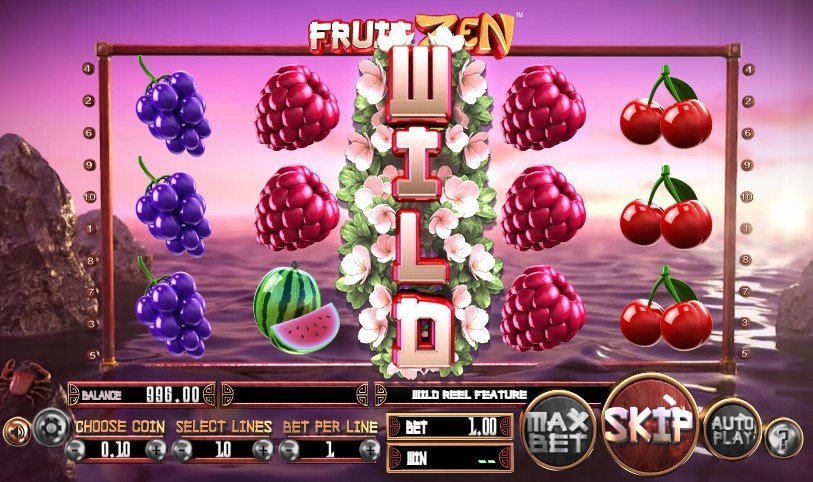 Zaključak
Fruit Zen slotu se takoreći i nema šta prigovoroiti. Kao i sve druge slot igre provajdera BetSoft, ova takođe ima dinamičan, ali istovremeno jednostavan interfejs. Sve je jasno prikazano i igrači će imati dobar pregled svega što im je bitno za igru. Grafika je sigurno najjači deo ovog slota i zajedno za muzikom čini igranje ovog slota veoma zabavnim za igru. Očigledno je da je BetSoft uložio mnogo truda u ovaj slot poštujući sopstvene visoke standarde i može se reći da je uspeo da ih isprati u svakom smislu.