Blue Heart
Ideja

Grafika

Audio

Bonus
Igraj Blue Heart besplatno
Ideja
Provajder EGT sa naslovom Blue Heart potrudio se da ovim naslovom zadovolji igrače koji vole slotove sa temtaikom policajaca i lošpova, tačnije kradljivaca dragulja. Priča ovog slota veoma je interesantna. Dva lopova opljačkala su zlataru, ukravši poznati Blue Heart dijamant i druge dragulje, a upravo je šposao igrača slota da vrati opljačkane dragulje i uhvati lopove. I sve to uz priliku da osvoje velike nagrade.
Blue Heart omogućava igračima čak 100 isplatnih linija sa raspored 5×4. Osnovni elementi u ovom slotu su predstavljeni zelenim, crvenim, žutim i ljubičastim dijamantima, kao i slovima J, Q, K i A koji takođe predstavljaju obične simbole.
Ono što će igrači posebno želeti da dobiju su skater i wild simboli. Skater simbol predstavljen je draguljarnicom i on omogućava igračima da dobiju 10 besptlatnih spinova. Wild simbol je je predstavljen dijamantom Blue Heart po kojem se slot i zove i on može zameniti bilo koji simbol u igri osim skatera.
Grafika
Ovaj slot je zanimljiva promena kada je provajder EGT u pitanju jer je on najpoznatiji uglavnom po prozivodnji modernih voćnih slotova. Ipak, grafika nije u potpunosti promenjena u odnosu na uobičajnu ponudu slotova ovog provajdera. U pozadini dominira bordo boja, dok su i boje simbola prilično realne i blago naglašene. Likovi dvoje pljačkaša, muškarca i žene, prikazani su kao u video igrama, tačnije na aparatima iz nekada dobro poznatih igraonica i imaju malo tog retro šmeka.
Ipak, generalno gledano grafika je prilično jednostavna i može se čak reći da je šteta što zanimljivu temnu ne prati još bolje grafičko rešenje samog slota.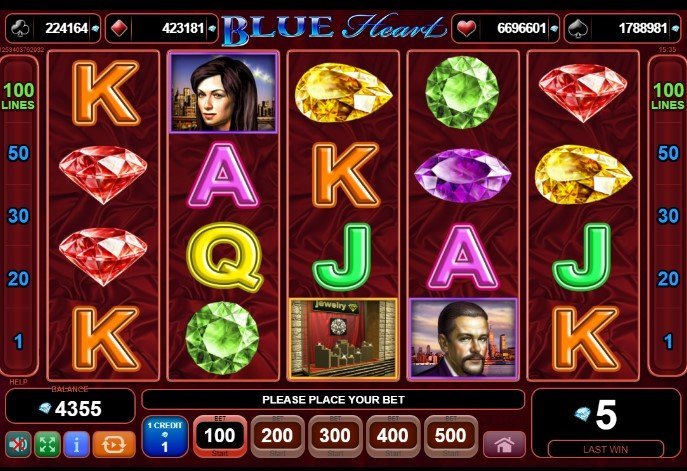 Audio
Kada je u pitanju zvuk slota Blue Heart, on u potpunosti podseća na standardnu EGT ponudu voćnih slotova. Zapravo, zvukovi su identični tim slotovima i potpuno isto zvuči kada igrač pokrene slot i odigra spin.
Takođe, sve j prilično slično, ako ne i isto kada je u pitanju eventualnik dobitak koji igrači ostvare. U zavisnosti od veličine dobitka, razlikuje se i zvuk koji se emituje, a poseban zvuk predviđen je kod opcije "gamble" ukoliko se igrač odluči da odigra i taj segment ovog slota.
Sa te strane, Blue Heart ne priređuje nikakva izneanđenje i čini se da je EGT hteo da odigra na sigurno nudeći igračima dobro poznate zvukove na koje su se navikli igrajući neke druge slotove ovog provajdera.
Bonus
Kada su u pitanju bonus opcije, Blue Heart ima šta da ponudi igračima. Prvi bonus je 10 besplatnih spinova koje igrači mogu da dobiju ukoliko izvuku skater simbol draguljarnice, tačnije tri takva u linijama 2,3 i 4, a ovaj bonus može da bude raktiviran i tokom igranja incijalnih 10 besplatnih spinova.
Postoji takođe i džekpot bonus koji igrači nmogu da dobiju posle svakog spina. Igrači će dobiti 12 karata, a ispod svake se krije određena nagrada. Igrači biraju karte dok ne sakupe tri iste što im donosi nagradu.
Poseban bonus je takozvana "gamble" opcija u kojoj igrač može da kocka sa dobijenim iznosom tako što će pogađai boju naredne karte koja će biti izvučena, odnosno da li će ta karta biti crvena ili crna. Ukoliko igrač pogodi, njegov dobitak će biti dupliran, a u suprotnom izgubiće sve što je osvojio. Ovo je opcioona mogućnost i igrači nemaju obavezu da je igraju. Kod "gamble" opcije postoji samo jedno ograničenje, a to je da se mogu kockati samo iznosti do 15.000 novčića.
Zaključak za Blue Heart slot
EGT je odlučio da ovaj slot uradi sa veoma interesantnom temom, ali i po oprobanom receptu kada su u pitanju njgovi grafički i audio kvaliteti. Čak 100 isplatnih linija svakako će privući igrače, a Blue Heart je i više nego dovoljno zanimljiv da uz dobre mogućnosti dobitka i nekoliko zanimljivih bonus opcija dovoljno zaokupi pažnju igrača kako bi se oni rado vraćali igranju ovog slota.