Crystal Hot 40
Ideja

Grafika

Audio

Bonus
Igraj Crystal Hot 40 besplatno
Ideja
Crystal Hot 40 video slot delo je provajdera Fazi Interactive sa temom voćkica i pet kolona sa četiri reda i 40 platnih linija koje su fiksne. U pitanju je klasičan video slot, ali sa mal odrugačije prikazanim voćkicama kao što i samo ime kaže, koje izgledaju kao da su od kristala.
Ovaj video slot sadrži šest osnovnih simbola, od kojih su najmanje vredni simboli narandža, limun i trešnja i ukoliko igrač dobije pet u nizu dobiće 2,65 puta uvećan svoj ulog. Simboli šljive i lubenice imaju srednju vrednost što se tiče isplate, a pet takvih simbola igraču će doneti pet puta veću vrednost uloženog, a najviše vredi grožđe. Ovaj simbol, tačnije pet takvih u redu igračima će doneti 10 puta veću vrednost u odnosu na uloženo.
Osim osnovnih simbola, tu su i dva specijalna. Prvi je wild simbol crvena srećna sedmica koja menja sve druge simbole osim skatera i uz čiju pomoć se formiraju dobitne kombinacije. Wild simbol ima i veliku vrednost pošto pet takvih igraču donosi 25 puta više u odnosu na ono što je uložio. Skater simbol je zlatna zvezda, ali za razliku odvećine slotova ovde skater u Crystal Hot 40 ne donosi besplatne spinove već omogućava igračima da dođu do odličnih isplata, bez obzira da li se nalazi na platnoj liniji ili ne.
Ovaj video slot ima i autoplay opciju, pa igrači neće morati konstantno da vrte spinove već mogu podesiti da se to obavlja automatski dok oni sede i uživaju u ostvarenom dobitku.
Grafika
U ovom segmentu je Fazi uradio vrlo dobar posao. Pošto se ciljalo ka video slotu u retro stilu, u tom maniru je urađena i grafika, ali sa izgledom simbola koji veoma podseća na 3D što daje dodatnu draž ukupnom izgledu ovog slota. Pozadina slota je u crvenoj boji koja se preliva od svetlije ka tamnijoj nijansi, dok su boje simbola prilično žive, ali prijatne za oko i ne zamaraju posle dužeg igranja. Posebna animacija je urađena kada se ostvari dobitak pošto se na ekranu pojavljiju plamenovi. Takođe, u gamble opciji karte su vrlo jasno i precizno prikazane i Fazi u ovom segmentu nije želeo ništa da prepusti slučaju.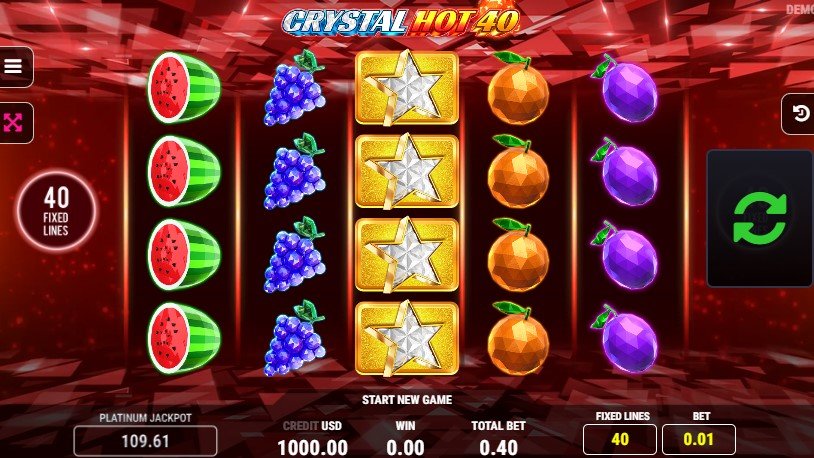 Audio
Pošto se radi o video slotu koj ije ražen u retro maniru, zvuk je upravo i urađen na takav način. Zvuk pkretanja slota, odnosno spina je prilično jednostavan, a može se reći i jednoličan, pa će verovatno posle nekog vremena postati po malo i dosadan igračima.
Zvukovi prilikom ostvarenih dobitnih kombinacija razlikuju se od oga sa kojim je simbolima kombinacija napravljena, kao i koliko je veliki dobitak što je sasvim dobra ideja Fazija da na taj način napravi razliku. Kada se ostvari dobitak, čuje se i zvuk novčića dok se dobieni iznos prebacuje igraču na njegov ukupan saldo. Kada se igrač odluči na bonus rundu, odnosno gambling opciju to je označeno kratkim zvukom, dok se tokom igranja te opcije čuje zvuk mešanja špila karata, a melodija je drugačija na kraju u zavisnosti da li je igrač pogodio ili ne koje je boje karta. Generalni utisak jeda Fazi nije napravio loš posao što se tiče zvuka.
Bonus
Kada su bonus opcije u pitanju Crystal Hot 40 ne nudi baš mnogo toga, ali i to je u skladu sa željom provajdera Fazi da kreira slot u retro stilu. Tu je gamble opcija u kojoj igračim mogu odvostručiti svoj dobitak. Po ostvarivanju dobitne kombinacije mou se odlučiti za igranje igre crveno/crno, odnosno pogađanja boje sledeće karte koja će biti izvučena. Ukoliko uspeju da pogode njihvo dobitak će biti udvostručen, ali ako ne budu uspšeni izgubiće sav dobitak sa kojim su odlučili da se kockaju. Osim gamble opcije tu je i progresivni džekpot koj ise nasumično aktivira.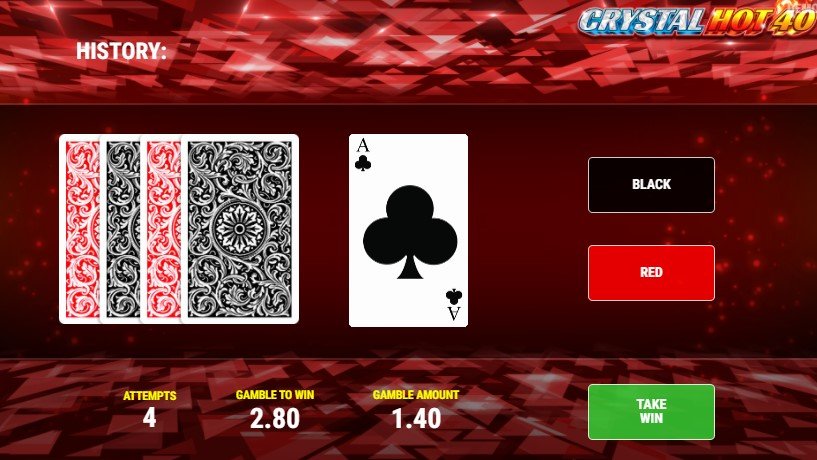 Zaključak
Ovaj video slot provajdera Fazi je jednostavan za korišćenje i lako će na sve u vezi nejga naučiti i igrači koji spadaju u grupu početnika. Suštima ove igre leži u činjenici da ona savršeno odgovara igračima koji su više naklonjeni starim načinima igranja zajedno sa velikom isplatom koja u slučaju ovog slota zaista može da bude velika. Slobodno se može reći da je Fazi uradio odličan posao sa ovim slotom. Crystal Hot 40 namenjen je pre svega igračima koji ne vole da ulažu mnogo, ali pruža sasvim dovoljno mogućnostima i igračima koj suvoljni da više rizikuju. Ovaj video slot definitivno će moći da zabavi igrače na duži period.