5 Dazzling Hot
Ideja

Grafika

Audio

Bonus
Igraj 5 Dazzling Hot besplatno
Ideja
Ovaj video slot proizvod je provajdera EGT pravi je izbor za sve one igrače koji su ljubitlji klasičnih slotova u retro stilu sa voćnom temom. 5 Dazzling Hot je upravo takav slot koji igra na kartu nostalgije onih koji su se sa klasičnim slotovima sa voćnom temom susretali još na slot mašinama. Ovo je slot sa postavkom od pet kolona u tri reda sa fiksnim platnim linijama.
Slot ima autoplay opciju kojom igrači mogu da podese automatsko okretanje spinova dok oni praktično samo sede i gledaju dobitke, ali ukoliko je ta opcija aktivirana, onda ne postoji mogućnost bonusa, odnosno gamble opcije uz pomoć koje igrači mogu da udvostruče dobitak.
Simboli u ovom slotu prikazani su kao voće, a to su grožđe, šljive, trešnje, narandže, lubenice i limunovi. Tu je i simbol srećne sedmice, dok je skater simbol u ovom slotu zvezda koja ne mora da se pojavi na određenoj poziiji da bi bila deo dobitne kombinacije. Interesantno je da u ovom slotu nema wild simbola, pa samim tim ne postoji ni bonus opcija sa besplatnim spinovima. Najveća isplata je kada igrač dobije tri ili više simbola srećene sedmice
Grafika
Izgled ovog video slota u potpunosti se uklapa sa onim što je bila namera provajdera EGT kada ga je kreirao. 5 Dazzling Hot zaista ima taj retro izgled i čitav slot u takvom prikazu, pa će se oni stariji igrači podsetitit kako je to bilo igrati na mašinama kada su osamdesetih ovakvi slotovi bili u punom zamahu. Izgled kompletne postavke slota, kao i simbola odgovara retro stilu, a takve su i boje simbola. Pozadina slota je u crvenoj boji, simboli su lepo i jasno prikazani, a poseno interesnatno izgleda kada je ostvarena dobitna kombinacija jer se tada svi simboli koji su igraču doneli dobitak nađu u plamenu. EGT je uradio dobar posao sa grafikom jer ovaj slot daje igračima retro osećaj tokom igre.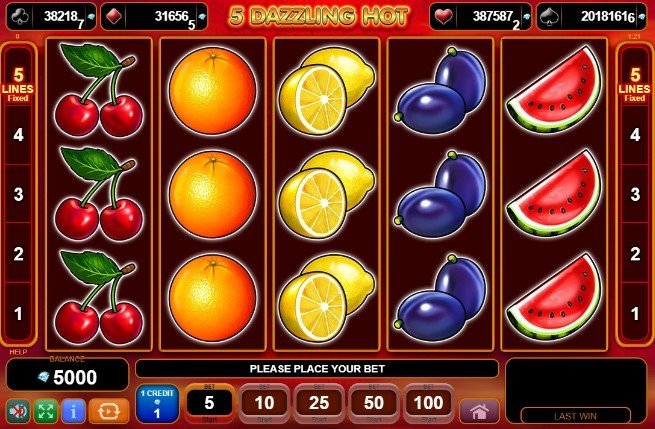 Audio
Za zvuk ovog slota važi isto što i za grafiku. EGT se potrudio da dočara zvuk kakav je nekada bio na slot mašinama i u tome je uspeo. Kratak mehanički zvuk prati okretanje svakog spina, dok je svaki dobitak praćen istom kratkom melodijom. Međutim, svaki veći dobitak ima i dodatnu melodiju koja je praćena zvukom zveckanja novčića. Kada se igrač odluči za gamble opciju, tada bira boju naredcne karte praćen zvukom mešanja špila. Oni koji su ljubitelji ovih retro slotova voleće i retro zvuk koji ima ovaj slot.
Bonus
Opcije po pitanju bonusa su nešto drugačije u 5 Dazzlinh Hot slotu nego što su igrači verovatno navikli, pošto ovaj video slot nema bonus u vidu besplatnih spinova. Ipak, ima nekih drugih mogućnosti koje igračima mogu doneti sasvim lep dobitak.
Postoji takozvana gamble opcija koja se može aktivirati posle svakog spina ukoliko je ostvarena dobitna kombinacija, ali samo ako igrač sam aktivira spinove. Ukoliko je uključena autoplay opcija, gamble opcija je deaktivirana, pa će igrači morati da sami odigravaju spinove ako im je stalo do ove bonus opcije. Kada igrač osvoji određeni iznos ima mogućnost da pogađa narednu kartu, tačnije njenu boju i da li će ona biti crvena ili crna. Ako igrač pogodi boju naredne karte koja će biti izvulean dupliraće svoj dobitak. Međutim, ukoliko ne bude uspešan izgubiće sve.
Postoji i opcija Džekpot karte koja se nasumično aktivira, a koja je inače česta opcija u slotovima EGT-a. Igrač će ispred sebe dobiti 12 karata okrenutim licem na dole i biraće tri karte sa istim znakom. Visina osvojene nagrade zavisiće od toga pod kojim su znakom tri izabrane karte.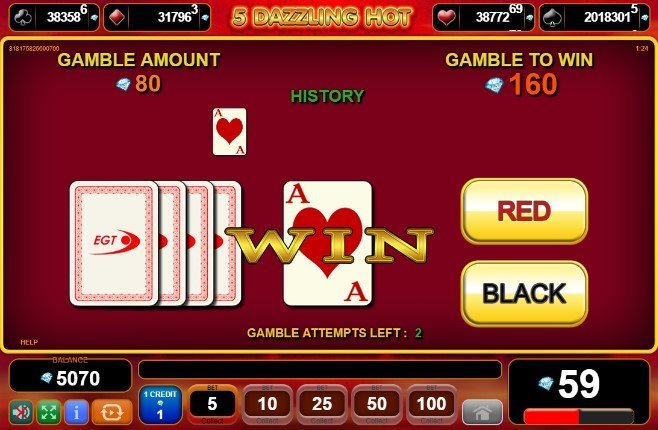 Zaključak
EGT slot 5 Dazzling Hot je veoma lepo sklopljena igra koja daje sasvim dobar uvid u klasične slotove sa voćnom temom. Ovaj slot će pre svega imati publiku među igračima koji vole igre u retro stilu i oni će jedva čekati da okrenu spin, a ovaj slot bi lako mogao da postane i njihov omiljeni, posebno ako nisu previše zainteresovani sa šljašteći sjajn modernijih vieo slotova. Svakako, u pitanju je slot koji vredi probati.