20 Burning Hot
Ideja

Grafika

Audio

Bonus
Igraj 20 Burning Hot besplatno
Ideja
Slot 20 Burning hot napravljen od strane EGT Interactive zapravo predstavlja unapređenu verziju slota Burning hot što objašnjava zbog čega naziv zvuči poznato. Tem slota ista je kao i kod njegovog prethodnika, što podrazumeva prilično tradicionalan izgled. Ovo je slot iz pet redova sa 20 platnih linija po čemu je i igra dobila naziv. Prethodna igra imala je samo pet linija i ovo na neki nain predstavlja proširenu verziju tog slota. Cilj igra je spojiti identične simbole sa leva na desno, minimum tri, kako bi igrač ostvario dobitak.
Simboli u ovom slotu su identični kao i u Burning hot slotu i biće poznati svim igračima koji su u prošlosti igrali klasične slotove. Najmanji dobitci stižu od narandži, šljiva, trešnji i limunova. Nešto veći dobitak daju zvona, lubenice i grožđe, a najbolji simbol koji najviše daje je sedmica koja daje čak i neku vrstu utešne nagrade čak i ako igrači dobiju samo dve sedmice. Ovaj slot sadrži i dva skater simbola, a to su znak dolara i zvezde, mada nijedan od njih nije povezan sa bonus rundom. Kao wild simbol u igri služi detelina sa četiri lista i ona je najvažniji simbol u igri koji može menjati sve ostale simbole osim skatera. Ovaj slot poseduje i autoplay opciju pa igrači mogu da podese automatsko pokretanje slota.
Grafika
Kao i u igri čiji je naslednik, 20 Burning hot ima veoma jasnu i preciznu grafiku. Simboli su odlično prikazani, čistog izgleda, a ni sama igra nema suvišnih detalja koji bi mogli igračima da odvlače pažnju. Deluje da su makar vizuelno i simboli nešto veći nego kod prethodne igre. U svakom slučaju EGT nije imao razloga da menja svoj pristup kada je u pitanju ovaj slot koji grafički izgleda, može se reći, izuzetno.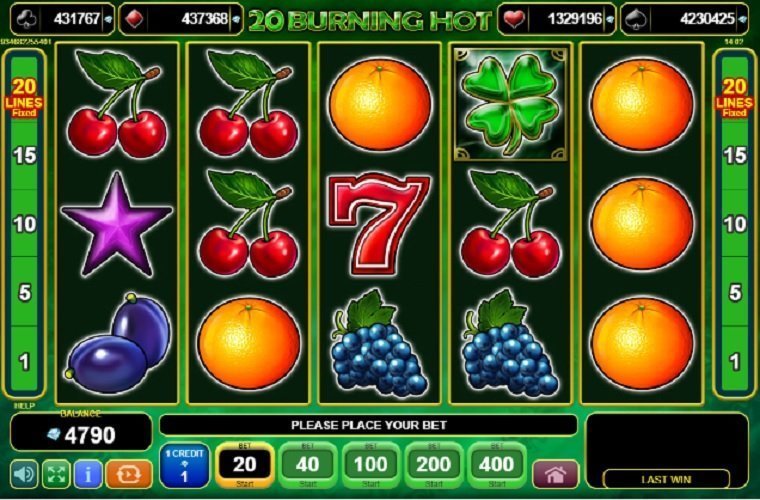 Audio
Ni ovde nije bilo promena kada se uporedi sa prethodnikom slota 20 Burning hot. Zvuk je kao i kod prethodnika čist i jasan. Pokretanje slot daje karakterističan i dobro poznat zvuk, kao i prilikom zaustavljanja slota. Naravno, postoje različite melodije za različite dobitke koje igrači ostvaruju. U svakom slučaju EGT e vodio izrekom da sve što je dobro ne treba menjati.
Bonus
Jedan d bonus ovog slota je mogućnost da se wild simbol deteline sa čeitir lista proširi i pojavi na svakoj poziciji u redu što multiplikuje šane igrača da ostvari veliki dobitak. Ovaj slot nema opciju sa besplatnim spinovima, ali zato ima mogućnost kockanja. Odnosno da se pogaća boja nardne karte koja će biti izvučena i da li će ona biti crvena ili crna. Ukoliko igrač uspe da pogodi njegov dobitak će biti dupliran, ali ako promaši izgubiće sve što je osvojio.
Postoji i mogućnost džekpota iako nije reč o klasičnom bonusu. Prilikom svakog spina igrač ima šansu da pokrene opciju džekpot karte koja će mu prikazati 12 karata licem okrenuti ka dole. Igrač otvara jednu po jednu kartu i kada otvori tri iste, dobija džekpot.
Zaključak za 20 Burning hot
Iako nesumnjivo 20 Burning hot ima mnogo toga zajedničkog sa svojim prethodnikom, verujemo da će igrači biti i te kako zainteresovani da odigraju i ovaj slot. Dodavanjem dodatnih platnih linija EGT je prilično osvežio igru, pa će oni igrači koji su već igrali prethodnu verziju igre i u ovoj pronaći nešto novo. Jedini pravi nedostatak je nedostatak besplatnih spinova, ali to ne kvari ukupni utisak koji je pozitivan.