Hotline 2
Ideja

Grafika

Audio

Bonus
Igraj Hotline 2 besplatno
Ideja
Hotline 2 je onlajn slot provajdera NetEnt u rasporedu 5 puta tri sa čak 243 načina pobedu. Ovaj slot se možeigrait na svim uređajoma, a inspisiran je serijom Poroci Majamija. Predstavlja nastavak popularnog Hotline slota, a i njegov izgled je gotovo identičan originalu. Tema slota je pljačka zlatare u Majamiju koju istražuju detektivi Kvin i Rivijera, a izgled slota je odličan i budi dozu nostalgije.
Simboli predstavljeni u kolonama su delovi iz zlatare koji podrazumevaju ogrlice, prstenje i pojedinačno drago kamenje. Drugi simboli uključuju čoveka koji nosi mikrofon i detektive Kvin i Rivijeru. Najvredinij simbol je Kiti Vajs koja je predstavljena sa naočarima za sunce i čašom sa šampanjcem.
Wild simbol u ovom slotu je predstavljenom saobraćajnim znakom na kojem piše wild i ovaj simbol se pojavljuje u koloni dva, tri ili četiri. On služi kao zamena za sve simbole, osim za skater koji je predstavljen simbolom ružičastog flaminga što je zaista u stilu Poroka Majamija. Slot ima i opciju autoplay u kojoj igrači ne samo da mogu podesiti automatsko okretanje spina, već mogu i podestiti koliko spinova će ova funkcija biti u upotrebi, a igrači mogu da biraju između 10 i 1.000 spinova.
Grafika
Osim mnogo prilika za ostvarivanje dobitka, još jedan izuzetna kvalitet Hotline 2 onlajn slota je njegova grafika. NetEnt se zaista izuzetno potrudio kod ovog slota i to se vidi. Pozadina slota predstavljena je Majamijem u sumrak, a svi simboli, nezavisno od toga da li je u pitanju nakit ili ljudi predstavljeni su jasno i precizno, ali potpuno u stilu 80-tih i osnovne inspiracije slota, serijom Poroci Majmija.
Boje su takođe lepo prikazane i mada je inspiracija pronađena u 80-tim godinama prošlog veka nisu drečave i neće zamarati oči igračima pošto je stvoren ukupan ambijent veoma prijatnog izgleda. Izgled slota neće biti narušen ni igranjem na manjim ekranima smartfona pošto će i na njima grafika biti odlično prikazana.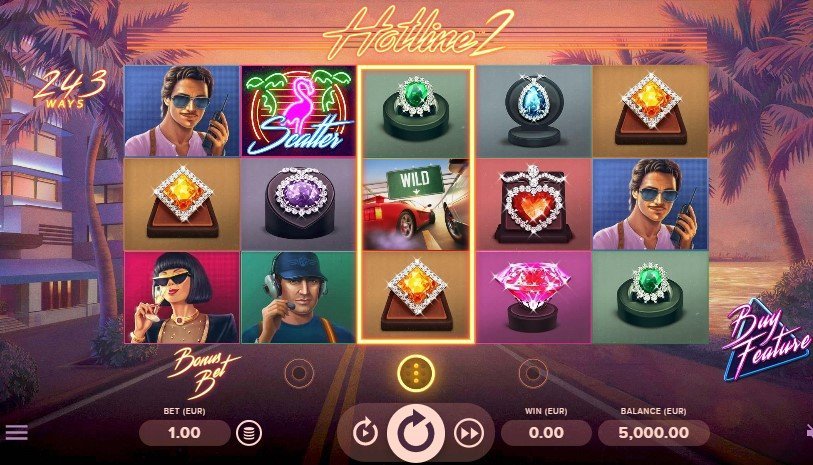 Audio
Slično kao i kod grafike, audio je takođe jaka strana ovog onlajn slota. Muzička tema koja konstantno ide u pozaditi tokom igre odlično prikazuje zvuk 80-tih i lepo se uklapa sa zvukom okretanja spinova, dok je svaki fobitak ispraćen kratkom melodijom koja se ne razlikuje u odnosu na visinu dobitka. Poseban zvuk namenjen je kada se pojavi wild simbol, a on se iskazuje zvukom motora moćnog automobila.
Bonus
Ovaj onlajn slot provajdera NetEnt ima tri bonus opcije. Postoji opcija koja se aktivira kada se na određeno polje spusti wild simbol. Wils se proširuje i daje igraču mogućnost wild kolona. Ipak, besplatni spinovi mogu da budu najvažniji ukoliko se tokom njih wild simboli nađu u Hotlajnu i to će doneti wild kolone i dodatne simbole u Hotlajnu. Ovo će igračima dati mogućnost od čak 1.944 načina da pobede i osvoje još besplatnih spinova.
Hotlajn opcija je centralna stvar u ovom slotu. Kada igrač igra normalno igru, treća kolona je Hotlajn. Dodatne kolone mogu biti pretvorene u Hotlajn korišćenjem dvostruke i trostruke opklade. Dvostruka opklada aktivira kolonu tri i četiri kao Hotlajn dok se ulog igrača duplira, dok trostruka kolona aktivira kolokne dva, tri i četiri, a ulog igrača je trostruko uvećan.
Hotlajn opcija je posebno važna kada su u pitanju wild simboli. Kada se wild simbol pojavi u bilo kojoj od tri srednje kolone služiće kao uobičajna zamena. Međutim, kada wild padne u Hotlajnu, proširiće se i dati igraču pravu wild kolonu. Ovo je poznato kao Proširena wild opcija i igrač bi mogao da dobije do tri wild kolone po spinu.
Opcija besplatnih spinova se aktivira dobijanjem tri neonska flaminga skater simbola u Hotlajnu u osnovnoj igri. Igrač tom prilikom dobija sedam besplatnih spinova, ali su wild simboli važniji. Wild koji dođe u Hotlajnu povećaće visinu kolone za jedan simbol i tako otvoriti dodatne mogućnosti za dobitak. Tako, wild se proširuje kako bi igračima dao potpuno wild kolonu. Maksimalna visina Hotlajna je šest simbola što znači 1.944 načina za pobedu. Kada Hotlajn dostigne svoju maksimalnu visinu, igrač će dobiti dodatna dva besplatna spina. To znači da igrač od šest besplatnih psinova može da profitira i dobije ih ukupno 13.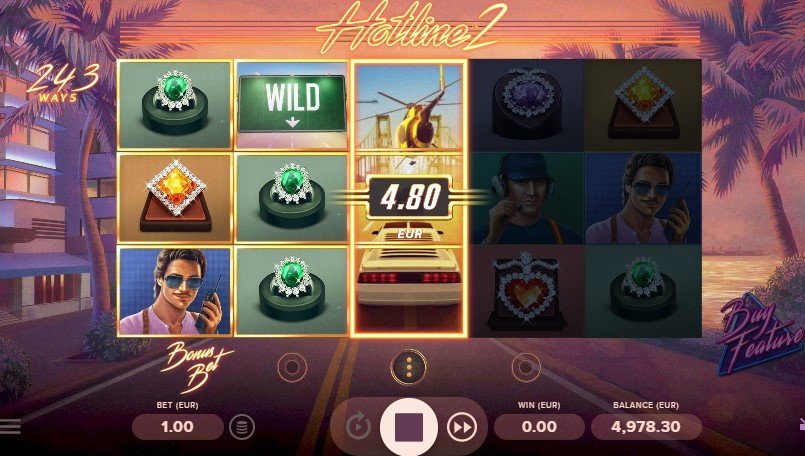 Zaključak
NetEnt je dodatno istakao sebe kao provajdera sa Hotline 2 onlajn slotom. Hotline 2 je čak i mnogo bolji od ogrininalnog naslova. Dodatak novih načina za dobitak prilikom korišćenja opcije besplatnih spinova samo je dodalo na kvalitetu ovog slota.
Kvalitetna grafika i odličan zvuk samo su dodali na kvalitetu ovog slota, kao i priča koja se razvija tokom igranja. Kao slot sa pet kolona može se reči da je Hotline 2 gotovo savršen onlajn slot.