20 Super Hot
Ideja

Grafika

Audio

Bonus
Igraj 20 Super Hot besplatno
Ideja
20 Super hot je još jedna klasična slot igra, a već iz njenog imena se otkriva na koliko načina možete pobediti u ovoj igri. U igri su zastupljeni uglavnom voćni simboli poput trešnji, šljiva, narandži, limunova, dinja, lubenica i grožđa, ali su tu i zvezde, kao i sedmice, a svi simboli kao I cela igra su prikazani u retro stilu.
U ovoj slot igri su skater vezde i one mogu otključavati različite bonuse i doneti različite iznose kredite. Simbol broja sedam ima takozvanu wild funkciju, odnosno može zameniti bilo koji drugi simbol u igri osim zvezde. Ono što je dobro za igrače je što sedmice mogu da se pojave u bilo kojoj traci što uvećava šansu za dobitak
Takođe važna stvar za igrače 20 Super hot, ova igra ima autoplej opciju I uz njenu aktivaciju igrači neće morati da posle svake runde okreću slot.
20 Super hot grafika
Ova slot igra ima grafiku koja svakako može da se podvede pood pojam retro, što će obradovati igrače koji su se već ranije sretali sa ovim igrama kada su one bile na vrhuncu popularnosti pre pojave online igranja.
Igra ima veoma jasan interfejs, a takav je i prikaz svih simbola u 20 Super hot, pa će igračima predstavljati zadovoljstvo da se upuste u igru.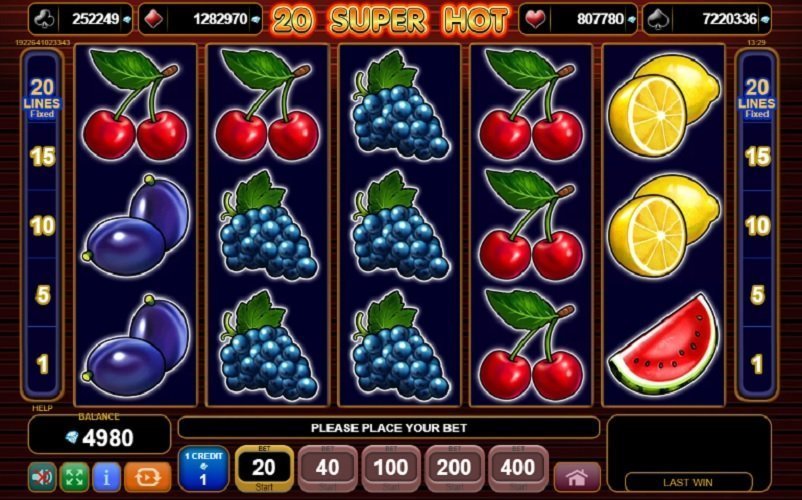 Zvuk
Ova igra se ne izdvaja posebno kada je zvuk u pitanju. Svako okretanje spina prati karakterističan zvuk koji takođe daje retro utisak, a ukoliko igrač ostvari neku od dobitnih kombinacija čuće kratku melodiju. Jedino zanimljivo je što će dužina melodije zavisiti od visine dobitka, pa će veći dobitak ispratiti i duža melodija, ali se tu i završava sve oko zvuka u 20 Super hot igri.
Bonus
U ovoj igri se pravo na bonus stiče dobijanjem skater, odnosno zvezde koja će otključati razne bonuse kroz koje igrači mogu dobiti čak i do 10.000 kredita.
Kod svakog osvajanja nagrade, igrači dobijaju mogućnost da dobitak dupliraju, a ukoliko to žele pritiskaju "gamble" i dobijaju kartu čiju boju moraju da pogode. Ukoliko to urade, dupliraće ostvareni dobitak, dok će u suprotnom izgubiti sve. Mogućnost dupliranja dobitka kroz pogađanje boje karte je opciono i igrači nisu u obavezi da to odigraju.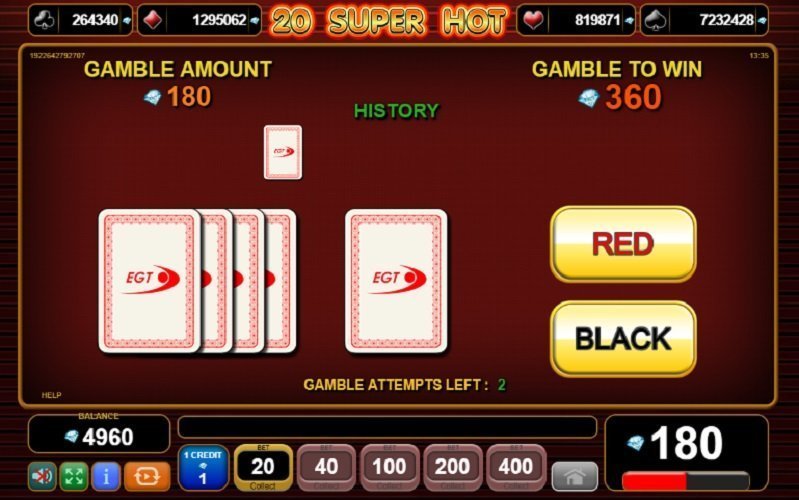 Zaključak za 20 Super hot
Za sve one igrače koji vole retro slot igre, definitivno neće pogrešiti ukoliko se odluče za 20 Super hot i ona će biti pravi izbor za njih, podsećajući ih na to kako je igranje izgledalo pre pojave online igara. Ova slot igra svim igračim nudi široku lepezu dobitaka, a istovremeno će im pružiti osećaj pravog slot iskustva.